NI 'ghost estates' - up to 5,000 homes unfinished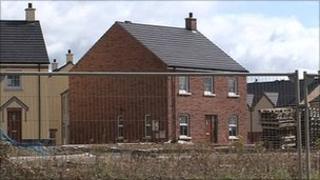 New figures reveal that there are up to 5,000 houses in Northern Ireland which have been started but remain unfinished because of the collapse in the property market.
Ghost estates - where homes have been started but not completed - are a legacy of the collapse.
Housing Executive figures suggest there are between 4,000 and 5,000 homes in various states of construction.
It is the first recorded figure for NI.
The majority of homes were started by developers who could not afford to finish them when prices plummeted and finance dried up.
Others have been mothballed in the hope the market will recover.
The figure for Northern Ireland is the equivalent to the number of houses in towns the same size as Dungannon or Cookstown in County Tyrone.
In June, an Irish government minister set up a national body in the Irish Republic to deal with the issue of so-called ghost estates.
There are around 120,000 empty homes on estates which were built during the country's failed property boom.