Protest at Belfast City Hospital over A&E closure plan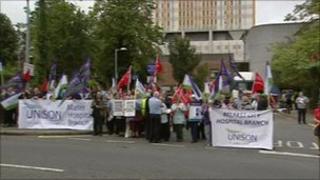 More than 100 union members, staff and patients have protested outside Belfast City Hospital against plans to close its accident and emergency department.
Earlier this month the health minister said a shortage of junior doctors had put a question mark over the viability of the unit.
Speaking at the protest on Thursday, Tommy Steenson from public service union Unison, condemned the proposals.
A decision is expected by October.
The unit at the City Hospital is currently used by around 42,000 people each year.
There are two other accident and emergency units serving Belfast. One at the Mater Hospital and one at the Royal.
Last week Health Minister Edwin Poots indicated that the City's unit was likely to close due to a lack of consultants.
At the time, the minister conceded that this might lead to a problem with infrastructure capacity.
On Thursday Mr Steenson, Unison branch chair at the hospital, said closure would have "a detrimental effect on the community in south and east Belfast".
He also asked where those patients who would have attended the City would now be treated.
The closure plans will be discussed in the next couple of months with the doors potentially shutting as early as October.