Paddy Barnes sets his sights on the ultimate sporting prize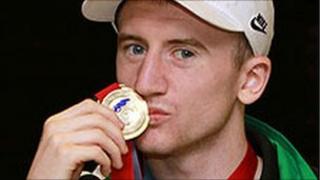 Light-flyweight boxer Paddy Barnes battled for Olympic bronze three years ago.
Now he is after the ultimate prize: "Nothing less than gold," he said.
"It's always been big in mind, even with qualifying (for the games), there's a great buzz, with the whole country behind you. It's something you need to experience. It's hard to describe."
Last year, Barnes added the Commonwealth gold medal to his collection with impressive displays in Delhi.
Resisting the choice to turn pro after his Beijing experience, Paddy has stayed focused on the dream of winning the ultimate amateur boxing prize at London 2012.
But he is benefitting from some professional advice.
The day I visited him at the Holy Family ABC in Belfast, Carl Frampton, the Celtic Super bantamweight champion, had dropped in a for a knockabout sparring session.
Carl believes there's very little that can stop Paddy realising his Olympic dream: ""Paddy's probably in the top one or two in the world right now," he said.
"There's no doubt that on his day he can beat anyone in the world. He has unbelievable speed but for a light-fly he also hits very hard.
"I've seen him in tournaments knocking out fly and bantamweights. He definitely has a bit of sting in those punches.
Strong pedigree
"He'll be expecting to qualify and then come back as Olympic champion - no doubt."
Barnes comes from a boxing stable with a very strong Olympic pedigree.
He's the seventh fighter from Holy Family to head to the Games.
Trainer Gerry Storey, who has been working in the sport for 50 years, is well qualified to offer a true perspective on Barnes' true potential: "Paddy is one of the best light-flys we've ever had," he said.
"He respects nobody - no other fighter in the world - and when he boxes he's in to win. And I know he's not going to be content until he gets an Olympic gold. He can handle it all."
There's no doubt that there's something missing from Paddy Barnes' medal collection - and he knows much is expected of him in 12 months time but he is unfazed by any pressure.
"It gives me confidence," he said.
"If I'm one of the favourites then I'm one of the better boxers, so people should be fearing me and I should be going there with my confidence really high."