Caral Ni Chuilin to attend NI match at Windsor Park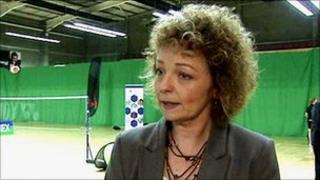 Sports Minister Caral Ni Chuilin has said she will attend Northern Ireland's Euro 2012 qualifier against the Faroe Islands at Windsor Park next month.
However, the Sinn Fein minister said she would not be there for the British national anthem.
She said similar arrangements were made for her DUP predecessor, Edwin Poots, when he attended a GAA game.
Ms Ni Chuilin said she did not want to be politically insensitive to either community.
Sensitivities
"Edwin Poots went to a GAA game and Edwin Poots was not there for Amhran na bhFiann (The Soldier's Song) and there were arrangements made to facilitate that happening," she said.
"I'm asking for the same sensitivities to be afforded to myself.
"I don't want to be politically insensitive to the community who would go to Windsor Park, but I'm not being politically insensitive to the community I represent either."
Mr Poots was the first DUP politician to attend a Gaelic football match when he watched a McKenna Cup game between Down and Donegal at Pairc Esler, Newry in January 2008.
Ms Ni Chuilin dismissed comparisons with the President of Ireland, Mary McAleese, who has stood for the British national anthem on several occasions, most recently when the Queen made her first visit to the Irish Republic.
"With respect, Mary McAleese is not representing North Belfast - I am. We both have our local constituencies that we need to be mindful of," Ms Ni Chuilin said.
Joined-up government
The North Belfast MLA also indicated her desire for better promotion of golf tourism in Northern Ireland and said she was working closely with Tourism Minister Arlene Foster to make it happen.
"We are banging each other's doors down and I think that is the proper order. This is an opportunity where you will actually see joined-up government at work," she added.
Ms Ni Chuilin added that she was keen to see both the Irish Open and the British Open come north of the border in the near future.
The minister also revealed that the family of IRA murder victim, Mary Travers, have rebuffed her attempts to organise a meeting over her appointment of Stormont special adviser Mary McArdle.
Mary McArdle was part of an IRA gang which murdered Ms Travers during an ambush on her father, magistrate Tom Travers, in April 1984.
"I have attempted to have contact but the Travers family weren't interested," Ms Ni Chuilin said.