Plastic bag consultation to begin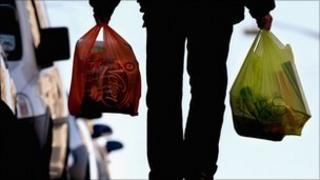 The public consultation on the introduction of a plastic bag tax in Northern Ireland begins today.
The environment minister hopes it will have both green and financial benefits for Northern Ireland.
But independent retailers fear it could be bad for business at an already tough time.
A charge for plastic bags was first introduced in the Irish Republic in 2002 - it is currently 22 cents per bag.
The consultation will run until October and people can make suggestions as to how much they feel the bags should cost.
The charge is due to be introduced on 1 April 2013.
'Green initiative'
In Wales, a single use carrier bag will cost five pence from October. England and Scotland do not have any plans to introduce a charge for bags.
Over 200 million bags are used in Northern Ireland every year and Environment Minister Alex Attwood said a tax will have several benefits.
"I am determined that we treat the environment as what it is: one of our most valuable assets," he said.
"The aim of this charge is to both reduce bag usage and at the same time raise revenue that would be used to provide funding for the environment and other government priorities.
"This is a green initiative. It can symbolise a change of attitude, a change in culture, a change for the better.
"Throw-away bags are an eyesore and result in hidden costs which each and every one of us pays. Not only do we pay for the costs of producing them in our shopping bills, but we pay for their impact on the environment and the costs of cleaning them up."
But smaller retailers have warned that introducing such a tax on plastic bags could be harmful for some businesses in Northern Ireland.
Independent Retail and Trade Association chief executive Glyn Roberts said: "NIIRTA supports measures to reduce plastic bag use but the proposed levy seems to be poorly thought through.
"It's unclear if it is intended to discourage plastic bag use or if it is a revenue raiser. It has to do one or the other - it can't do both.
"It will also put retailers in the position as unofficial tax collectors adding to their operating costs and an already growing red tape burden"