Protest in Ballyclare after PSNI remove flags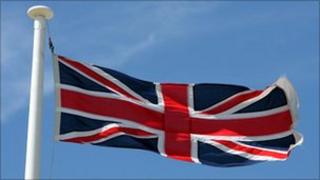 Roads have been blocked by loyalists in Ballyclare, County Antrim.
It is understood it is because of a dispute with police about the erection of illegal flags in the town.
The PSNI said they were liaising with community representatives to find a peaceful resolution.
It is believed up to 70 members of the loyalist community staged a protest after officers removed some of the flags.
DUP MLA Paul Girvan said about 10 flags were taken down by police on Friday night.
"There was a number of loyalist paramilitary flags removed, but as well as that there was union flags and an Ulster flag (removed)," Mr Girvan added.
"As a result there was a bit of a backlash from the community and those who put the flags up."
He said a crowd of protesters gathered on Saturday afternoon and put up around 100 union flags on the Ballynure Road.
They then staged a sit-down protest, which is believed to have blocked roads for a time.