New NI driving licences 'more secure'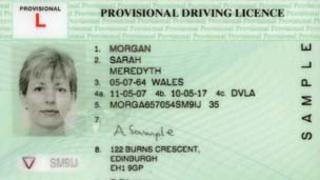 Changes have been made to the Northern Ireland driving licence to make it more secure and difficult to falsify.
New and renewed licences will feature the changes which came into effect on Friday and will make them similar to those issued in Great Britain.
Applicants will be asked to continue to submit colour photographs which will be altered to black and white.
The changes came about as a result of improved card security being introduced by a new European Union directive.
Northern Ireland licences are currently printed by the Driver and Vehicle Agency at Coleraine but the operation will switch to Swansea.
Stanley Duncan, DVA chief executive, said: "Transferring the printing of drivers' licences to Swansea has a number of advantages.
"By allowing us to take advantage of economies of scale, we can keep costs down. It will also provide better security and improved contingency arrangements."
Mr Duncan said that all other work in relation to NI driver licences would remain with the DVA in Coleraine and that there would be no loss of jobs.