Murdered RUC men Breen and Buchanan warned about risk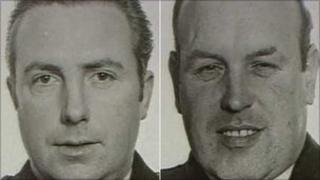 An inquiry investigating allegations of collusion in the murder of two RUC officers has been told they were asked not to cross the border to attend a meeting with Irish police in 1989.
A former assistant chief constable, who cannot be named, told the tribunal in Dublin that Harry Breen and Bob Buchanan went to meet gardai anyway.
They were shot by the IRA on their way back.
The inquiry is investigating alleged collusion between the gardai and IRA.
The former ACC who gave his evidence from behind a screen, said he met the men in Armagh days before the murder took place.
"I told them not to go, they disobeyed an order and they were killed," he told the Smithwick Tribunal in Dublin.
However, others insisted that Chief Supt Breen could not have been at that meeting.
In his diary, he recorded that he was on leave that day and his wife June confirmed that he spent the day with her, cutting the grass and going shopping.
Someone else said there was another meeting where the two men were ordered to go to the meeting with gardai.
Earlier on Thursday the tribunal heard evidence that Supt Buchanan met gardai 10 times in the month before he died.
A former officer, known as witness 6, told the tribunal that one of his colleagues, witness 18, had expressed concerns about the number of times the officer had visited Dundalk.
The inquiry heard that the increase in frequency meant there was an increase in risk.
The tribunal was also told that the IRA was highly effective in intelligence gathering.
On Tuesday, the inquiry's legal team revealed that it had had a face-to-face meeting with three former members of the Provisional IRA in recent weeks.
The tribunal was told the IRA members, one of whom had a command role in the attack, gave detailed accounts and replied to questions from the inquiry team.
The inquiry, which has a November deadline for completion, is due to hear evidence from 214 witnesses including former RUC Special Branch officers, DUP MP Jeffrey Donaldson and journalists Kevin Myers and Toby Harndon.