Rebels' Easter Rising tricolour on loan to America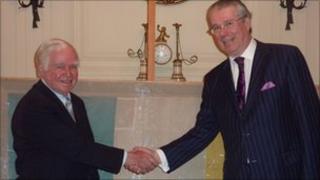 A tricolour flag flown by Irish volunteers over their Dublin GPO headquarters during the 1916 Easter Rising is on loan to New York.
The flag, which is insured for $1m, was captured by British soldiers after the surrender and was later given to a doctor in Lisburn, County Antrim.
In turn, his son-in-law donated it to the family of John Sweetman (1844-1936), a renowned Irish nationalist and one of the founders of Sinn Fein.
Now the Sweetman family has agreed to lend it to the American Irish Historical Society.
Ian Whyte of Whytes irish auctions , representing the Sweetman family, formally handed over the flag to Kevin M Cahill, president general of the AIHS, in New York.
"The family are delighted to have this important icon of Irish history displayed in the AIHS in New York," he said.
"The other flag that flew over the GPO during the Rising is in the National Museum of Ireland, and it is fitting that this tricolour is now in the USA, home to over 40m people of Irish descent."
The flag will be a focal point for the American commemorations of the Centenary of the Rising in 2016, in which the AIHS plays an important role.