Polish Cultural Week festival in Belfast for fifth year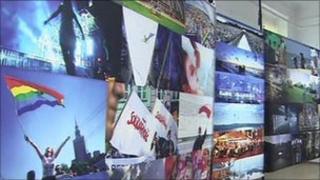 Belfast is set to celebrate the fifth annual Polish Cultural Week (PCW), which begins in the city on Thursday.
The festival will showcase Poland's culture, arts, heritage and language in a series of exhibitions, events and concerts around the city.
It is organised in partnership with the Polish Cultural Institute in London and the Adam Mickiewicz Institute in Warsaw.
In spite of the name, Polish Cultural Week will actually last for ten days.
The festival does more than display Poland's cultural offerings. It reflects the presence of Northern Ireland's large Polish migrant population.
The PCW website states that part of its mission is "to develop a sense of identity among the members of the Polish community in Northern Ireland".
Highlights of the festival include an exhibition of the work of photographer Tomasz Tomaszewski, and a performance by world renowned jazz pianist Pawel Kaczmarczyk at the newly refurbished Lyric theatre on Thursday night.
It is Mr Kaczmarczyk's first visit to Northern Ireland.
Taste of Polska
The popular Taste of Polska festival features again this year at St Anne's Square on 7 May.
Run in partnership with ethnic arts organisation ArtsEkta, the event will feature a variety of multicultural music and dance performances, as well as an authentic Polish barbecue.
Eva Grosman, PCW co-ordinator, said: "It is our aim to offer people, across all communities and generations, the chance to experience and learn more about Polish culture and arts.
"A Taste of Polska provides a view of not only what the Polish culture has to offer but what other cultures around the world including India, China and Africa have to offer."