Royal wedding not shown on BBC Big screen in Belfast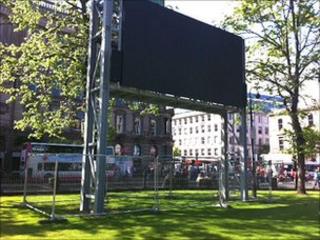 Belfast will be the only UK capital not to stage a public showing of the royal wedding, it has emerged.
Although a BBC-backed big screen has been erected at Belfast City Hall, it will not be inaugurated with the widely publicised event.
Belfast City Council has attracted criticism from local officials for missing out on a "golden opportunity".
However, both the council and the BBC have said the screen is simply not ready.
London, Edinburgh and Cardiff are just some of the cities that will be broadcasting the event to the masses on Friday.
The 25 square metre screens are part of a collaboration between the BBC, the London Organising Committee of the Olympic Games and local authorities.
Located in 20 cities across the UK, they will relay a combination of major broadcast events, news, sport and music leading up to the games in 2012.
All of the screens, except in Belfast and Woolwich, will be providing full-day coverage of the royal wedding.
'Operational issues'
However, despite the criticisms faced by the council, BBC officials have said that operational issues, rather than any politically motivated decision or planning oversight, are to blame for the lack of coverage.
According to Anita Bhalla, head of the BBC's Public Space Broadcasting team who are charged with running the screens, the Belfast screen is three weeks away from being ready.
The screens were commissioned gradually, beginning in 2008, in groups of eight at a time, and the Belfast screen was one of the last to be granted funding.
Before it is fully operational, it must undergo extensive testing, and was not intended to be ready on time for the royal wedding.
Ms Bhalla said: "It's not like a big TV screen. You don't just turn it on.
"We couldn't have a situation where 3,000 people turn up (for the wedding) and the screen isn't working."
She said that the technical issues prevented the Royal wedding even being discussed as an option, either by the BBC or Belfast City Council.
"Editorially it wasn't an issue," she said.