Increased security at Londonderry courthouse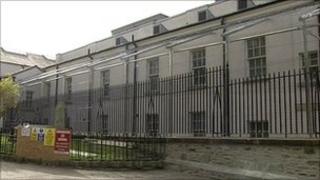 Increased security measures are to be installed at the courthouse in Londonderry after an attempted bomb attack on the building last month.
More than 120 bollards will be placed on the footpath outside the court, stretching from the city walls to St. Columb's Court.
A 200-hundred-pound car bomb was defused on Bishop Street three weeks ago.
Businesses and the courthouse were evacuated during the alert.
Martin McCrossan, head of the City Centre Traders and Business Forum, said it would portray a negative image of the city.
"I pleaded with the NIO not to do this. This is sending out the message that this is an unwelcoming place to be," he said.
"I think it's a very sad situation and a backward step, but i think it would be worse if anyone was injured."