Stephen Nolan presents new obesity documentary Dead Fat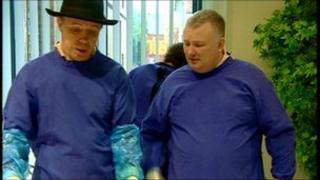 In the stark new BBC NI documentary Dead Fat, presenter Stephen Nolan learns of the dangers of obesity.
Producer, Lena Ferguson, tells of her experience making the programme and of witnessing an autopsy of an obese woman first hand.
The worse thing was the smell. There is no nice way to say this but a dead body opened up has an unforgettable smell and the more the doctor rummaged in the intestines the stronger it became.
Mark, the cameraman, a veteran of countless wars, was unfazed. Stephen was being stoical but the camera was on him and he couldn't hide his feelings, his face wouldn't have been out of place in a silent movie.
We were in Guben, in what used to be East Germany. Poland was just a few yards across the river and we were watching the work of Gunther Von Hagens, an anatomist who has made a name dissecting bodies for research and invented a technique for preserving them in plastic.
It is always a shock to see a dead body, but this one was obese, and floating in a tank of ethanol. The woman was in her 60s and had died five days earlier from a stroke.
Like thousands of others across Europe, she had donated her body to science so the rest of us could learn.
When she was cut open, we learned that fat is yellow and has the thick consistency of custard. The best way I can think to describe that pale skin with the 10 centimetres of fat exposed below is lemon meringue pie.
'Unhealthy city'
Stephen had wanted to film the autopsy for a long time. There had been months of negotiations and Gunther agreed to let the cameras in because he believes in spreading the message about looking after your body.
We wanted to make a documentary focusing on the dangers of obesity and this was the perfect way to show what it's like to be fat under the skin.
We went to Huntington, West Virginia, which had been named one of the unhealthiest cities in the US.
Suddenly Stephen didn't look like an overweight person.
We spoke to a paediatrician specialising in childhood obesity who treats primary school children with heart problems and diabetes.
Forty-three per cent of 10-year-olds in his area are obese. He said it bordered on child abuse. Could we soon be raising a generation of children who die before their parents?
But we have nothing to be complacent about in Northern Ireland, where more than half the population is overweight or obese.
In this programme Chief Medical Officer Dr Michael McBride told us how 450 people here die of obesity-related causes every year, and the problem has the potential to bankrupt the NHS.
Courage
Professor Barbara Livingstone from the University of Ulster in Coleraine said we are only five years behind the US if we keep increasing at our current rate.
In the last 10 years the word 'obesogenic' has been created to describe the environment around us that makes it easy to overeat - food is too easily available and relatively cheap; portion sizes have grown steadily and even our dinner plates have got bigger.
Stephen has never shied away from talking publicly about his battle with weight, but it took courage to undergo an MRI scan in front of a camera. It was fascinating to see the images building up until we could see an actual photograph of the layer of fat under his skin and around his organs.
For me that was one of the shocking moments in the programme. We didn't tell Stephen the results in advance; his reaction on camera was real.
Many other people also showed real courage in talking to us, like 18-year-old Alex, who broke down telling us how much he hated his body, and Nicola, tall and as beautiful as a model, who lost seven stone.
Dead Fat is on BBC One NI Monday, 4 April at 2100 BST. A follow up programme, Dead Fat the Big Debate is on BBC One NI at 2235 BST on Tuesday April 5.