Titanic centenary launched with R J Welch exhibition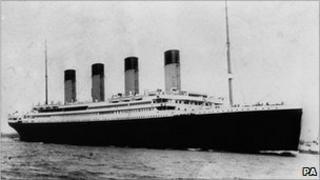 Celebrations of the 100th anniversary of the launch of RMS Titanic will begin on Thursday with the opening of a major photographic exhibition.
The 'Titanic 100' exhibition will be held at Belfast City Hall until May.
It will focus on the construction of the ship through the lens of R J Welch, the official photographer for Harland and Wolff.
Belfast City Council will hold two months of events, ending on 31 May, the centenary of the ship's launch.
The date of the opening is also significant, as it coincides with the anniversary of the laying of Titanic's keel, on 31 March 1909.
It is also the centenary of the opening of the Thompson Graving Dock, where the ship was built, on 1 April 1911.
As well as displaying photographs of the ship itself, the exhibition will attempt to give an insight into life at the Harland and Wolff shipyard and in Belfast more generally in 1911.
The exhibition will be opened officially at 1030 BST on Thursday by the Lord Mayor of Belfast Pat Convery and John Andrews, president of the Belfast Titanic Society and great-grandson of the Titanic's designer, Thomas Andrew.