NI hospitals face £500 fines for casualty waiting times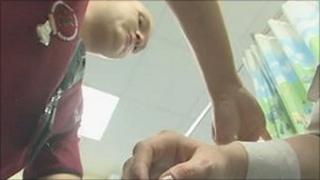 NI hospitals could be fined £500 every time a patient in casualty has to wait longer than 12 hours for treatment.
Health chiefs are planning to impose "substantial fines" to tackle waiting times and trolley waits, according to a story in Tuesday's Irish News.
But the chief executive of the Northern Health Trust, Sean Donaghy, said imposing fines was not the answer.
"Removing money from the trust will not be an immediate incentive to improve performance," he said.
"We will be focused on improving performance irrespective of what the overall performance management regime is.
"If it is the case that we find ourselves with less money by virtue of systems of fines, that will force us to have a conversation with our colleagues right across the system to say: 'Which elements of service are we going to have to curtail?'".
Chief executives from NI's five health trusts have received letters from the Health and Social Care Board informing them of the radical proposals which could result in a £500 fine for each 12-hour breach.
However, the Health and Social Care Board said the penalty fines would be counterbalanced by an award for good performance.
The decision now rests with the Department of Health, it said.