Ballykelly people want MoD land gifted for community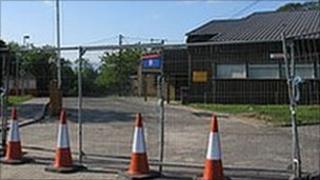 Ballykelly residents have called for some of the former Shackleton army barracks to be given to the community instead of sold to the highest bidder.
The Executive is putting it on the market immediately but some local councillors have questioned the sale in current market conditions.
Others want some of the land to be used for a community centre.
The Junior Minister, Gerry Kelly, said the move would provide social housing and raise money for the Executive.
"The land at Shackleton will be handed over immediately and will be up for sale immediately," he said.
He said the 700 acre site would raise much-needed funds for the Executive, but also had a social value.
"There's 47 ex military houses being handed over for social housing."
"At the core of this we want to be able to use this for the people and we will try our best on all these sites."
He said he expected the sale to raise "several millions".
However, independent councillor, Leslie Cubitt, questioned the benefits for the local community.
"I think they owe the community here something," he said.
"How do we know what benefit it's going to have for Ballykelly or Limavady?"
He also questioned the sale in the current market conditions.
"Anybody in their right mind would not sell property at this time because of the downturn in house prices."
Tina McCloskey, chairperson of the Ballykelly Community and Youth Association, is calling for some of the site to be given to the community.
"We at the moment are looking to build a new community centre and we have secured some money, but we know that there's properties on that camp that we could use," she said.
Others expressed concern about the potential for antisocial behaviour if more houses are built in the area without a community facility.
"With so many young people running about at the weekend like it is in every community with drink and drugs and all that it would be far better if they had somewhere to go and something to do," one resident, Tracy Clyde, said.
Several other sites are being handed over under the Hillsborough Agreement by 1 April.
The former military site in Omagh is being gifted for use as a new multi-school educational campus, comprising the entire Lisanelly base in Omagh and the adjacent area at the St Lucia base.
The land will be transferred directly to the Department of Education.
The St Patrick's Barracks site in Ballymena will also be transferred to the Office of the First and Deputy First Minister.