West Belfast health groups respond to double tragedy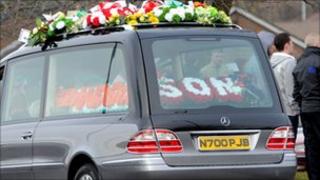 Community and health groups in west Belfast have met in response to the deaths of two young children who took their own lives in neighbouring housing estates.
Martin Rooney, 13, and 11-year-old Ciara Doherty died in unconnected incidents at their homes in Twinbrook and Mount Eagles.
Plans have now been made to provide extra help to local young people.
Martin Rooney's funeral was held on Monday.
Imelda Jordan, principal of St Colm's High School where Martin was a pupil, said the "school community are deeply saddened and shocked by Martin's tragic death".
"Our thoughts and prayers are with his family. He was a young man who was a bubbly, popular person with a large friendship group. He loved soccer, he was a keen talented player," she said.
"I think it is going to be a difficult time and we will be helping our young people."
Carmel McCartan, principal of St Louise's College which Ciara Doherty attended, said her death had come as a shock to all within the school community.
"Ciara was a very kind, gifted, intelligent girl who was full of life and extremely popular with pupils and staff alike. The suddenness of her death has added to our collective sense of loss," she said.
"We will continue to work closely with our pupils who have been affected by this terrible tragedy and we will provide ongoing support and counselling to them through our Pastoral Support Centre."
Father John Forsythe has visited the Doherty family and said they were in a "very black place".
"This is something that no-one could have comprehended or done anything to prevent," he said.
"It is such a shock and it ripples around the whole community.
"It is just numbing for them, they have been very saddened."
No details have emerged of how the two children died but community and health groups in the area have met to discuss their response to the tragedies.
Additional services will be provided over the next week in schools and youth settings, as well as via Facebook and through additional counselling support.
The group advises anyone with concerns to contact their local GP or the Lifeline helpline on 0800 8088000.
A suicide prevention organisation, PIPS , said it is concerned about the number of calls it is receiving from parents about their young children.
Philip McTaggart, a director of PIPS, said the young people who needed help were hard to identify.
"We have put in place a counsellor who works with young people aged four to 18. We have young people getting counselling at the minute who are 10, who have lost parents to suicide," he said.