Londonderry welcomes Turner Prize 'coup'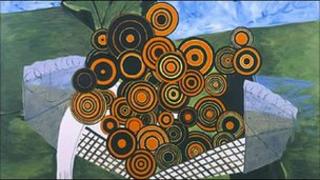 Londonderry's selection as the location for the Turner Prize in 2013 has been welcomed as a "coup" for the city.
The event will form part of its City of Culture celebrations.
Derry-born artist Willie Doherty - who was nominated for the prize in 1994 and 2003 - said it was "fantastic news", but said it didn't surprise him in the slightest.
""We have the quality of work and the level of engagement with art here already.
"There's nothing we can't handle, and I think Derry will put on a really good show.
"It's one of those prestigious events which, depending on who the artists are, can be either low-key or controversial."
He said the high-profile nature of the event would be a boost for the both the local art scene, and the city iself.
"It's one of those events which will be widely covered by the media, and people will want to come and see it.
"It gets the sort of coverage that other events don't, so I hope it will create a real impact.
"We have a small but interesting art scene here - our galleries have had a remarkable series of exhibitions recently and are doing great things on their own - but this will hopefully shine even more of a light on what they're doing," he said.
The interim chair of the City of Culture 2013 and former Turner Prize nominee Declan McGonagle said he was delighted the City of Culture had delivered such a "huge attraction".
"This is one of the rewards to come out of the City of Culture, and it's great to see the Tate taking it so seriously and devoting one of their most important events of 2013 to us.
"This is a huge event with a huge number of visitors, there will be a lot of curiosity about it, and we expect it to stimulate a lot of debate."
The venue for the Turner Prize has not yet been decided, but Mr McGonagle said the first choice is the former army barracks at Ebrington.
"A lot of it depends on the particular requirements of the artists - for example, we have to make sure we give them equal space.
"Our first thought is Ebrington, but we will have to work out if that will be ready in the way it needs to be.
"Failing that, we have a lot of Plan B's which the Tate is happy with."
'Moving forward'
He said that when he was nominated for the Turner Prize in 1987 he would never have dared to imagine the prize might come to Derry.
"It just shows how far the city has come.
"Not withstanding the things we still need to work on, it's a great indication of how things can move forward, and how art and culture can move things forward."
The Tate, which runs the Turner Prize, said showing it outside London would "attract new audiences around the country and bring the prize to a wider and more diverse audience outside the capital".
"This is part of our remit and aspiration to share the collection and programmes as widely as possible and to promote public understanding and enjoyment of British, modern and contemporary art."
Derry beat off competition from Birmingham, Sheffield and Norwich to become UK City of Culture in 2013.
The city has long been known as a centre for contemporary art, and boasts two successful venues, Void and the Context Gallery.
Derry also hosted one of sculptor Anthony Gormley's first public art projects, a set of sculptures reminiscent of the Angel of the North which were installed on the city walls.