Girl's bravery in McElhill fire attack rewarded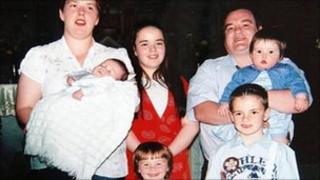 A young girl who died trying frantically to save her family from a fire started deliberately by her father has been remembered for her bravery.
Caroline McGovern was 13 when Arthur McElhill set the family home in Omagh alight.
He killed her mother, Lorraine McGovern, Caroline and her four small brothers and sisters, and he died himself in the flames.
But Caroline dialled 999 for help and she tried to save the smaller children.
Despite the efforts of the emergency services and neighbours, all seven died in the blaze.
They were Lorraine McGovern, Arthur McElhill, Clodagh, 19 months; Bellina, 4; Sean, 7; James, nine months and Caroline.
Later, a recording of the emergency call made by Caroline from the family's Lammy Crescent home in Omagh, showed how she tried desperately to get help and told one of the younger children to run.
She continued to give directions to others until she was overcome by the smoke.
Her mobile telephone was recovered from under her body.
Caroline's courage on the night of 13 November 2007 was remembered at a ceremony in Clogher on Wednesday.
The Royal Humane Society made a special "In Memoriam" award to the relatives she left behind. The posthumous award marked the bravery of a young child in the face of death.
McElhill, a convicted rapist, killed his family by starting a house fire when his partner threatened to leave.