Mortgage interest scheme cut 'could mean repossessions'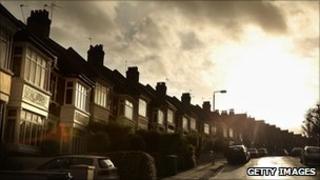 Cuts to a scheme which helps unemployed people with mortgage payments could lead to thousands of repossessions, a finance advice agency has warned.
The Support for Mortgage Interest (SMI) scheme is calculated at a fixed 6.08% figure, but June's emergency budget reduced this to 3.63% from October.
Advice NI warned this would leave many "at risk of plunging into arrears and ultimately losing their homes".
It said 7,000 NI households claiming SMI faced mortgage interest shortfalls.
Its head of policy, Kevin Higgins, said this was about half of the total number of SMI claimants in Northern Ireland.
"Inevitably this situation is going to place households already in receipt of the lowest levels of income into severe hardship," he said.
"These households do not have any additional disposable income to meet this shortfall."
Advice NI said people may have to find as much as an additional £200 per month to meet mortgage payments.
Mr Higgins said that since November 2009 they had met 1,224 clients with almost £19m-worth of debt.
"There have been 159 mortgage arrears cases dealt with totalling £1.9m, and we can only see this situation getting worse," he said.
From 1 October, SMI will be calculated in line with the Bank of England's published monthly average mortgage interest rate.