Ulster Unionists meet to elect new party leader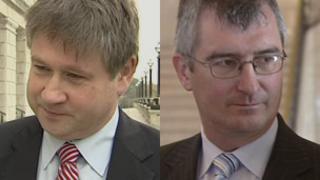 About 1,000 Ulster Unionist Party delegates have gathered to select a new leader.
It follows the resignation of Sir Reg Empey after the party's disastrous showing in the general election in May.
There are two contenders for the leader's post - Lagan Valley MLA Basil McCrea and Tom Elliott who represents Fermanagh and South Tyrone.
With counting under way, supporters of both candidates have been predicting that Mr Elliott has won the contest.
The selection meeting is taking place at the Waterfront Hall in Belfast, and a result is expected at some point before 2300 BST.
Many of the party's senior figures, including all but one of its MLAs, have declared their backing for Mr Elliot but Mr McCrea is hoping that he will secure enough votes from rank and file members.
One of the first tasks for the new leader will be healing any rifts within the UUP.
They will also have to set about winning back voters from the DUP and attracting unionists who no longer vote at all.
In the past decade, the UUP has gone from having 10 MPs to none.