It's a scoop... parmesan and chilli ice cream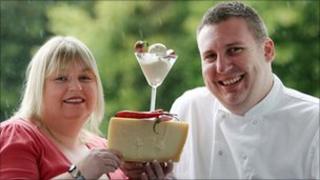 It's a scoop - Rachel Lowther from Ballyclare has won first prize in a competition after she dreamt up a weird and wonderful ice cream flavour: parmesan and chilli.
Her winning combination will now feature on the menu at Oregano restaurant in Newtownabbey, County Antrim, so that other customers can sample its delights.
"We tried six or seven different flavours, but Rachel's was by far the best," said head chef and owner of Oregano, Dermot Regan.
"You taste the creamy parmesan first and then you get the heat of the chilli in the back of your throat afterwards. It is a fantastic combination."
Other contenders for the weird and wonderful award included butternut squash and raisin, beetroot and chocolate and red pepper with smoked paprika.
Another winning combination is called a Baby Guinness - with Guinness, Tia Maria and a head made of frozen Baileys.
The competition will run in the restaurant for the next six months, with each month's winner featuring on the menu.
The champion of all six flavours will then be chosen... and Rachel is hoping her ice cream combination will have the opposition well and truly licked.