Brian Cowen admits interview 'not the best performance'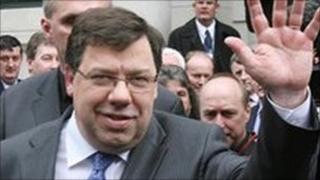 Irish Prime Minister Brian Cowen has admitted that a controversial radio interview he gave on Tuesday was not his "best performance".
Mr Cowen had to deny being drunk or hungover during the RTE interview.
The taoiseach was interviewed live from his party's conference, which is taking place in Galway.
On Wednesday he said: "I'm sorry that it emerged in the quality it did. There was a hoarseness in my voice throughout the day yesterday."
He added: "It wasn't my best performance and I would like to apologise for that.
"I would hate to think the reputation of the country or the office of taoiseach would in any way be affected by what I had to say."
Mr Cowen again denied any suggestions he was hungover.
"The assertions made subsequent to it were without justification, without foundation, were not correct, were not true," he said.
Mr Cowen had attended the Fianna Fail party dinner at the Ardilaun Hotel in Galway on Monday night.
Following the interview, the finance spokesman for the Republic's opposition claimed there were concerns over the leadership of the country.
"There was a feeling this morning that this can't continue, the game is up," said Fine Gael's Michael Noonan.
Simon Coveney, also of Fine Gael, who said in a Twitter message on Tuesday that Mr Cowen sounded "half-way between drunk and hungover" in the interview, has said he accepted the taoiseach's apology.
Mr Coveney said that he believed Mr Cowen, but added that he did not regret his previous tweet.
He said it took "a big person to apologise when big mistakes are made as was the case yesterday morning and the Taosieach should be recognised for that."