River Ouse in York searched for missing swimmer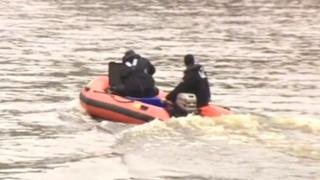 Police have been searching for a man who tried to swim across the River Ouse in the early hours of Thursday.
The 18-year-old was seen entering the water at King's Staith near the Lowther public house shortly before 02:30 BST.
Officers believe he was trying to reach the far bank of the river at Queen's Staith.
A force spokeswoman said there was no evidence the man had exited the water, but said later on Thursday that "he is not where he should be".
'Dangers and risks'
Jackie Roberts, whose daughter Megan drowned after falling into the river on 23 January, said: "I am devastated to hear that one more person may have lost their life, so close to where Megan lost hers.
"This makes me even more determined to do something to make people consider the dangers and the risks they face around water, particularly if walking home after a night out or drinking."
Ben Clarkson, 22, a student at York St John University, disappeared after a night out with a colleague in York on Saturday, 1 March, and his body was found in the River Foss nearly three weeks later.
Julia Mulligan, North Yorkshire's Police and Crime Commissioner, who held a river safety summit in York last week, said her thoughts were with the family and friends of the missing man.
Everyone taking part in the summit had resolved that their efforts should be focused on educating people about the dangers of being close to the city's rivers, Ms Mulligan added.