Scarborough Valley Bridge work to last until April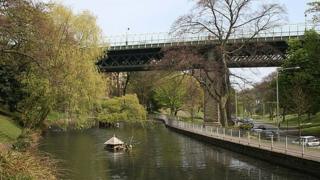 The first complete refurbishment of Scarborough's Valley Bridge will not be completed until April, the county council has said.
The bridge, constructed in 1933, carries the A165 across the town's Valley Ravine.
The £1m work began in September and was expected to take four months.
The county council said the delay was due to the need for additional work only discovered after the bridge parapets were dismantled.
The project includes extensive work on the existing decorative balustrade and steel fence of the bridge.
North Yorkshire County Council said the bridge would continue to remain open to traffic apart from during the delivery and removal of materials.