North Yorkshire Police launches campaign for Special Constable volunteers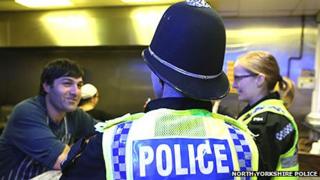 Police in North Yorkshire have launched a drive to recruit special constables.
The volunteers have the same powers as regular officers and wear the same uniform, North Yorkshire Police said.
The force is looking for 150 volunteers, with people aged over 35, from rural areas or from ethnic minorities particularly needed.
The Police Federation, a staff association, said special constables were a "valuable support" but they could not replace regular officers.
Police Commissioner Julia Mulligan, who launched the campaign, said being a special was "one of the most challenging and rewarding voluntary roles possible".
Deployment concern
But the recruitment campaign drew a note of caution from the Police Federation which represents officers up to, and including, the rank of chief inspector.
Mike Stubbs, secretary of the North Yorkshire branch of the federation said: "Special constables provide valuable support, but they are not, and can never be, a replacement for regular officers.
"They give their time on a voluntary basis, but many have jobs of their own which means they are not necessarily deployable at times when resources are needed."
Ms Mulligan said: "The special constables are additional resources for the force, not to replace regular officers.
"Specials have been around for 180 years so have been a longstanding part of the police service."
The special constables in North Yorkshire would be expected to volunteer a minimum of four hours per week, Ms Mulligan said.