Jammed Whitby swing bridge re-opened to traffic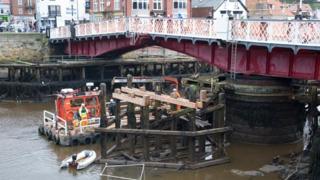 A North Yorkshire swing bridge which was closed after becoming stuck in an open position has been repaired.
The Whitby swing bridge, which connects two sides of the port, was shut for several hours on Tuesday before re-opening at about 20:00 GMT.
North Yorkshire County Council said a fault in the hydraulic system led to it being locked in an open position.
The authority said specialist engineers were sent to carry out emergency repairs.
The closure meant people had to make a three-mile (4.8km) detour to get from one side of the river to the other.