PC Andrew Bramma family fund raises more than £28,000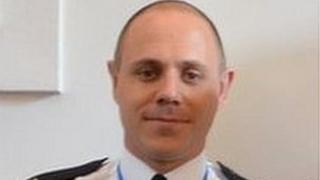 More than £28,000 has been raised in memory of a police officer who died in a crash a year ago.
PC Andrew Bramma, 32, lost control of his van in West Tanfield, North Yorkshire, while responding to a 999 call on 5 January 2013.
A fund was set up to support his two young sons following his death.
The North Yorkshire Police Federation said it had received "significant contributions" from friends, family, colleagues and members of the public.
Federation secretary Sgt Mike Stubbs said: "Our thoughts are with the people who will be missing Andrew the most this weekend - his wife Kathryn, his two sons Jack and Sam, his parents and wider family, and his friends and colleagues.
"Andrew was greatly loved and hugely respected. This anniversary will be a painful and poignant reflection of just how great a loss he is, both as a family man and as a police officer."
North Yorkshire Police said its flag would be flown at half-mast on Sunday and Monday as a mark of a respect, and flowers have been placed outside the force headquarters.