York Army Museum gets £1m lottery grant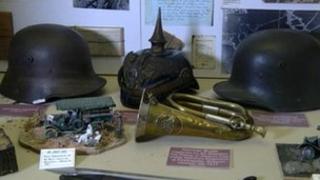 The York Army Museum has received a £1m grant from the Heritage Lottery Fund to transform its collection in time for next year's centenary of the start of World War One.
The museum, housed in a former Territorial Army drill hall, opened in 1984.
It houses artefacts telling the stories of soldiers serving in local infantry and cavalry regiments since the 1700s.
The money will be spent on new displays and "audio visual experiences".
The museum's project director Maj Graeme Green said the money would transform the "extremely old fashioned" displays and make them more accessible.
'Wonderful thing'
Maj Green said: "What we've got is an eclectic collection but it doesn't really convey the stories behind them, and that's going to be the wonderful thing that the new design is going to be able to deliver."
Among the stories that will be told in the new displays is that of Lt John "Jack" Harrison of the East Yorkshire Regiment.
He was a professional rugby League player for Hull FC before joining the army in 1915. Lt Harrison received the Military Cross and was posthumously awarded the Victoria Cross after being killed in action in 1917.
Earlier this year, York Castle Museum was awarded £1.1m of lottery money to build a major exhibition telling the story of the outbreak of WW1.