Restored Georgian watermill opened near Malton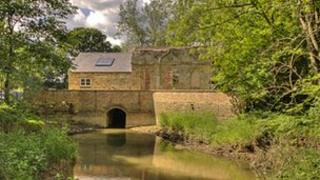 A ruined Georgian watermill that was restored at a cost of about £1m has been formally opened.
Howsham Mill, near Malton, has been transformed into an education centre producing green energy via its repaired waterwheel and an Archimedean screw.
The building was officially opened by Fiona Spiers, head of the Heritage Lottery Fund Yorkshire and Humber.
The Grade II-listed 18th Century mill was a finalist on the 2006 BBC Two series Restoration Village.
Work to rescue the mill, overseen by the Renewable Heritage Trust, began in 2004 and it now supplies energy to the National Grid.
Trustee Valerie Hood said: "The mill is on an island in the middle of the Derwent. It's a magical place.
"[The cost of restoration] is probably almost £1m, but it's a gem, a unique building."