Yorkshire Museum buys second Towton bracelet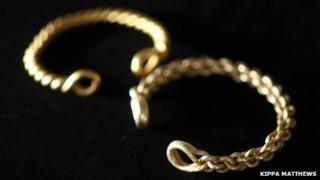 A 2,000-year-old Iron Age gold bracelet found in a field in North Yorkshire will stay in the county after a public appeal raised the cash needed.
The Yorkshire Museum appealed for donations to buy the bracelet, known as a "torc".
The torc is one of two found separately in 2010 and 2011 by metal detector enthusiasts at Towton, near Tadcaster.
The first was bought for £25,000 in 2012, while the second was valued at £30,000.
In September, the museum at York made an appeal to reunite the torc with a similar one already in its collections.
Both were found near Tadcaster and the museum said that together they "represent the first gold Iron Age jewellery ever found in the north of England".
'Overwhelmed'
The museum said public donations and cash from funding bodies had seen the full £30,000 raised to make sure the second piece of jewellery stayed in Yorkshire.
Natalie McCaul, curator of archaeology, said: "We have been overwhelmed by the generosity of the public and without their help we may have seen the bracelet enter a private collection.
"We are now looking forward to researching the torcs to learn more about both of them and what they can tell us about life in Yorkshire 2,000 years ago."
The Victoria & Albert Purchase Grant Fund donated £7,000 to the appeal, while the rest of the funding came from charitable funding bodies and individuals who wish to remain anonymous.
Both torcs are now on public display in the museum's reception area.
The two items were found by metal detector users separately, in 2010 and 2011, in Towton, near Tadcaster.
They were within metres of each other, but were almost certainly buried at the same time, the museum said.
"They undoubtedly belonged to an extremely wealthy, possibly royal, member of the Brigantes tribe, who ruled most of North Yorkshire during the Iron Age," Ms McCaul added.