York woman Pauline Wallace faces jail for snake neglect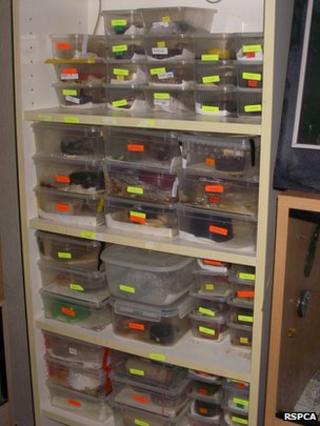 A woman who admitted failing to look after a number of snakes and causing unnecessary suffering to a dog has been warned she could face jail.
Pauline Wallace, 64, was prosecuted after the RSPCA discovered two boas and a python being kept in unsuitable conditions at her home in York.
She told officers she kept about 140 adult snakes at her home.
Wallace was told all sentencing options would be open when she is sentenced on 16 January. She was released on bail.
She pleaded guilty to nine offences under the Animal Welfare Act at York Magistrates' Court relating to three snakes and a border collie called Alf.
'Dirty plastic containers'
Speaking after the hearing, an RSPCA spokeswoman said officers had first visited Wallace's home on 2 August 2012.
She said: "A large number of snakes were found to be living in unsuitable conditions, without appropriate heating and lighting, in small and dirty plastic containers stacked on top of each other.
"Advice on improvements which needed to be made was given, but unfortunately the improvements did not happen and by 5 September [2012] all of the snakes and a dog called 'Alf' had been removed and placed in RSPCA care.
"Alf was thin and had significant fur loss all over his body."
Wallace, of Osbaldwick Lane, York, had been due to stand trial on Tuesday but pleaded guilty to nine of 19 alleged offences at the start of the hearing.
They included failing to provide adequate veterinary care for the dog and failing to ensure the snakes were protected from "pain, injury, suffering and disease".
The remaining charges were dropped.