Michael Bennison knife DNA swabs 'destroyed by error'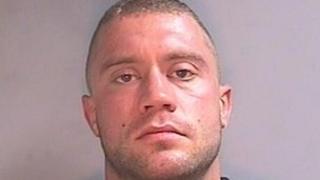 DNA swabs taken during an attempted murder investigation were "destroyed prematurely as a result of human error", police have said.
Michael Bennison, 29, had been accused of the charge after a 27-year-old woman was stabbed in York in December.
Prosecutors accepted his guilty plea to unlawful wounding after his trial was abandoned due to the evidence being lost by North Yorkshire Police.
Bennison was jailed for four years at Newcastle Crown Court on 6 November.
Det Ch Supt Simon Mason said the "loss of any potential evidence in the case is a matter North Yorkshire Police take extremely seriously".
The court was told Bennison had been travelling in a car with a man and the female victim, when an argument had broken out in the car, and, after the car stopped, the woman produced a knife.
Bennison took the knife from her and stabbed her six times; once in the side and five times in the back.
'Processes changed'
In October, a Crown Prosecution Service (CPS) spokesman said it had "fully expected to have the forensic analysis of the knife [at court] so we would be able to pursue the charge of attempted murder".
He added that the CPS were "disappointed" the evidence had not been presented and, as a result had "accepted a guilty plea of unlawful wounding".
In a statement, Mr Mason said two knives had been found following the attack and were examined.
"One was discounted as too rusty to be involved, the other was forensically examined for the presence of blood and fingerprints," he said.
He said no blood or fingerprints were found on that knife, but it had been swabbed for the presence of DNA.
He said any DNA would only have proved it was the blade involved, as Bennison had admitted the stabbing.
Those swabs, however, were disposed of before the court heard the evidence.
He added that a "full internal review has been conducted and concluded that the swabs in this case were most likely destroyed prematurely as a result of human error".
"Processes have been changed to reduce even further the possibility that such a mistake can be repeated."