Richard III's replica head on show in York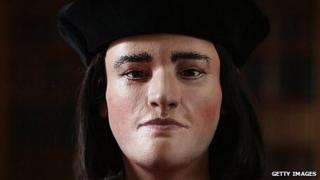 A facial replica based on the skull of King Richard III is on show in York.
King Richard's skeletal remains were found by archaeologists beneath a car park in Leicester, and are due to be reinterred in the city next year.
His reconstructed head, which is touring England, is on display at the Yorkshire Museum until 13 October.
The exhibition also forms part of City of York Council's year-long programme of events to celebrate the last Yorkist king of England.
Andrew Morrison, head curator at York Museums Trust, said: "We are delighted to be able to bring to York this construction of Richard III's head.
"The discovery of his bones in Leicester has ignited a lot of interest in Richard III and his connections to the city.
"We will use the head as a centre piece to a new display looking at what we really know about the King - separating the facts from the fiction which so often surrounds him."
Judicial review
The head was commissioned by the Richard III Society and remodelled by the forensic art team at the University of Dundee.
King Richard's remains have been at the University of Leicester since they were removed from the car park last September.
The licence to carry out the dig, issued by the Ministry of Justice, gave the university authority to decide where to rebury the king.
It said his remains would be buried at Leicester Cathedral "in keeping with good archaeological practice".
Lawyers acting on behalf of the Plantagenet Alliance, which includes 15 of Richard III's relatives, lodged papers in the High Court seeking a judicial review of the decision. They say he should be buried in York.
Richard was killed at the battle of Bosworth in 1485 and was hurriedly buried in the church of the Greyfriars in Leicester, which was subsequently lost during redevelopment.