Homecoming for Two Signal Regiment soldiers in York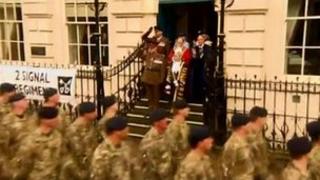 Soldiers returning from Afghanistan have staged a homecoming parade through York upon their return to Imphal Barracks in the city.
Crowds lined the streets to watch some 300 soldiers from Two Signal Regiment march through the city.
The troops returned from Helmand Province and Kabul last week.
Maj John Wright, second in command at the regiment, said: "It's always a tremendous honour to march through the town and see support from York."
The soldiers formed at Duncombe Place before passing through the city accompanied by the Royal Corps Signal Band.
'Great feeling'
York mayor Councillor Keith Hyman and Brig Greville Bibby, commander of 15 (North East) Brigade, received the salute at Mansion House.
Maj Miles Pennett said the parade was important to mark the successful return of troops but thoughts were with the family of Drummer Lee Rigby, the soldier killed in Woolwich on Wednesday.
"First and foremost our hearts are with Lee Rigby's family and friends," he said.
"For us, it's very much business as usual, we've got to focus on that and get on .
"This is a homecoming to celebrate the successful return of 300 soldiers from Afghanistan."
Lance Cpl Amy Mallinson said: "It's a great feeling. This is the day that you've waited for, to march through your town when you come back."