MoD to withdraw North Yorkshire potash mine objection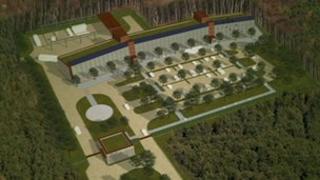 The Ministry of Defence (MoD) is to withdraw its objection to a potash mine near the RAF Fylingdales radar base, the company behind the plan said.
Sirius Minerals said it had addressed the MoD's concerns that sensitive equipment at the base might be damaged by ground vibrations.
It said it had also agreed to the ongoing monitoring of any impact.
A planning application for the mine near Whitby, North Yorkshire, will be considered in July.
The mine head would be constructed on farmland south of Whitby if the North York Moors National Park Authority approve the plans.
'Unnecessary delays'
MoD officials said their concerns had related to the fact much of the equipment at the base was extremely sensitive to ground-borne vibration or ground movement of any type.
In a statement to the planning authority, the MoD said: "The importance of RAF Fylingdales to national and international defence cannot be underestimated."
However, the company said the MoD was now satisfied planning conditions could be imposed to ensure continued monitoring of any impact on the RAF base.
Chris Fraser, managing director of Sirius, said: "We welcome the MoD's intention to remove the objection following the submission of extra technical information showing that RAF Fylingdales will not be affected by the project.
"Planning conditions are a sensible way to ensure important consultees are given comfort on our on-going commitment to the issues they raise, without incurring unnecessary delays."
The company said the mine would create 1,000 jobs and, when in full production, could add more than £1bn to the economy.