Allerton Park incinerator judicial review sought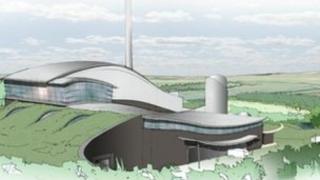 A council has accused the environment secretary of failing to act in a "proper manner" after pulling funding from a waste treatment project.
An incinerator was planned for Allerton Park, near Knaresborough, to reduce the amount of waste sent to landfill.
But earlier this year the Department for Environment Food and Rural Affairs (Defra) withdrew £65m of funding.
North Yorkshire County Council has now applied for a judicial review of the decision.
Defra provisionally allocated the private finance initiative (PFI) credits to North Yorkshire in 2007, but withdrew the funding in February as it said the scheme was no longer needed to meet EU waste targets.
'Failed to consult'
Chief executive Richard Flinton said: "We consider that the secretary of state has not made the decision to withdraw our credits in a proper manner and that he has failed to follow Defra's own published criteria.
"We also consider him to have failed to take account of the waste management obligations, failed to consult with us on his decision and failed to give proper reasons for his decision.
"At no point, during a lengthy five-year procurement process, had the government indicated that PFI funding would not be available."
North Yorkshire County Council and City of York Council said £6.5m of taxpayers' money had already been spent developing the plans.
A Defra spokesman said the department was investing £3.6bn in 29 projects across England to reduce the amount of waste sent to landfill.
The decision not to fund the Allerton incinerator and two other projects elsewhere in the country was taken as there was now sufficient infrastructure to meet EU landfill targets, he said.
"This does not necessarily mean the three projects will stop, that will be a decision for the local authorities concerned.
"We will continue to provide commercial and technical advice to those projects that continue with their procurement process."