Work on York's King's Square to start in June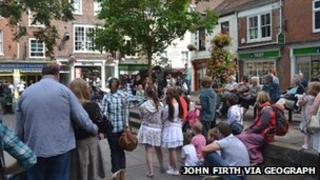 Work to transform one of York's most popular city centre public spaces is due to start next month.
The council said £490,000 would be used to repave and remodel King's Square to improve pedestrian access and provide more seating and space for performers.
The work, which will be carried out in phases, is expected to be finished by mid August.
Councillor David Merrett said the square needed a "radical rethink to make it a world-class space".
The work is part of a larger £3.3m initiative called Reinvigorate York.
Sir Ron Cooke, chair of Reinvigorate York, said since King's Square was created in its present form in the 1970s it had become hugely popular, but also shabby and cluttered.
Mr Merrett, cabinet member for planning, sustainability and transport, said the challenge was to provide a "much better quality public space".
The council said pedestrian access would be maintained throughout the work but restrictions would be in place for vehicles.