East Heslerton wind farm plan refused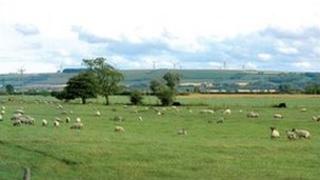 A plan for a wind farm on the Yorkshire Wolds has been rejected by councillors.
RWE Npower Renewables wanted to build 10 turbines, each more than 400ft (125m) high, at East Heslerton near Malton.
The application was refused by Ryedale District Council's planning committee by a majority of nine to two.
A company spokesman said after the meeting that it was likely to appeal. Objectors had claimed the plan would damage the site's natural landscape.
Paul Stephens, a farmer who lives and works near the proposed site, said he was "delighted" by the decision.
'Extremely disappointed'
"It's another step to sense prevailing and I can only say that I'm pleased it's been delayed a bit more because the longer this job goes on then the more anti-feeling towards wind turbines there is."
Mr Stephens said campaigners would continue to fight if the company appealed against the decision.
Martin Wood, from RWE Npower Renewables, said the company was "extremely disappointed" with the decision.
"Not only will the local community miss out on a community benefit fund worth at least £40,000 per year, but local businesses will also miss out on up to £23m worth of contracts associated with the construction, operation and maintenance of the wind farm," he said.
"Meeting UK targets for renewable energy remains a huge challenge and we believe that onshore wind farms, such as the one proposed near East Heslerton, play an important part in the ongoing effort to help tackle climate change."