Masham businesses pay for town sign on northbound A1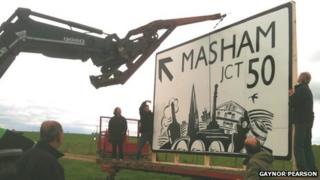 A North Yorkshire town hopes to put itself back on the map with a new road sign to replace signage taken down four years ago.
Traders in Masham say they suffered a 30% drop in visitor numbers after signposts on the A1 were removed when the road was widened in 2009.
The Highways Agency has said replacing brown tourist signs would cost £32,000 but it will not pay for the work.
Firms in Masham have now commissioned a new sign at a fraction of that price.
The sign, costing "a couple of thousand pounds", was designed by local artist Rob Blades and paid for by town businesses.
'Entrepreneurial spirit'
It has been erected in a field, rented as part of the overall cost, near junction 50 on the northbound carriageway.
Tourist signs on the southbound carriageway near junction 51 were replaced at no cost to the community.
Susan Briggs, director of the Dales Tourism Business Network, said: "The loss of the sign didn't just affect Masham but also 500 small tourism businesses that rely on passing trade."
Julian Smith, MP for Skipton and Ripon, said the town's latest efforts demonstrated an "entrepreneurial spirit".
A spokeswoman for Highways Agency said new signage had been approved for the northbound carriageway "strictly on the basis that it would be at no additional cost to the Department of Transport or Highways Agency".