Work hours car ban on York's Lendal Bridge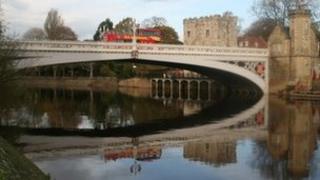 Traffic is to be banned from one of the main bridges across the River Ouse in York to cut congestion.
Councillors in the city voted for a six-month trial to allow only buses and taxis to use Lendal Bridge during weekday working hours.
Commuter traffic will be banned from 10:00 until 17:00, but this could be extended to 07:00 to 19:00
Leeds, York & North Yorkshire Chamber of Commerce urged the City of York Council to rethink its plans.
The restrictions on the bridge may start in August.
Urging the council to reconsider the decision the Chamber of Commerce said it understood the reasoning behind the decision but "the proposal to close Lendal Bridge to cars is currently impractical."
The organisation said it feared the move "would add unacceptable pressure to a creaking transport system and have a negative impact on business and economic growth".
Richard Flanagan, President of York & North Yorkshire Chamber of Commerce, said: "The only way car journeys into and out of the city centre can be reduced is to increase the capacity of the outer ring road, and by improving public transport in order to make it a viable alternative proposition.
"Improvements to roundabouts on the ring road and park and ride are only part of the solution."