Archbishop of York leads minster service for Brigade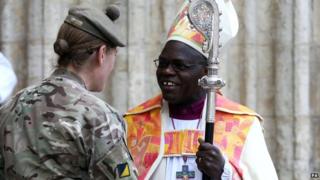 The Archbishop of York has led a service for British troops.
The service at York Minster marked the return of the 4th Mechanized Brigade, based at Catterick, North Yorkshire, from operations in Afghanistan.
Nine soldiers who were killed during a six month tour, were honoured with a roll call during the ceremony.
Dr John Sentamu read a blessing to the troops, and said: "Go forth into the world of peace, be of good courage, hold fast that which is good."
The Brigade was deployed to Helmand last October as part of the international operation to hand responsibility for security to the Afghan people.
Hundreds of soldiers attended the service including the families of those who were injured or killed on the tour.
A minute's silence was held and the Last Post was played.
'Way to remember'
The Reverend Richard Hall, Chaplain to Brigade Troops Echelon and the Queen's Royal Lancers, praised the "courage, professionalism and trust" shown by the Brigade.
Trooper Thomas Collings, from Skipton, said: "Today's our way to remember everyone who didn't come back, who can't be here today, who served just like I did."
"No matter how much training you go through, you can't prepare yourself for something like that."
Those remembered at the service included Captain James Townley of the Royal Engineers, who died in Afghanistan in September.
Royal Marine Corporal David O'Connor, Corporal Channing Day of the Royal Army Medical Corps, Royal Gurkha Rifles members Lieutenant Edward Drummond-Baxter and Lance Corporal Siddhanta Kunwar all died last October.
Captain Walter Barrie lost his life while serving with the Royal Regiment of Scotland in November.
Royal Engineer Sapper Richard Walker and Kingsman David Shaw of the Duke of Lancaster Regiment both died in January.
Lance Corporal Jamie Webb of the Mercian Regiment died in March.