Dog mess markers to shame Richmond pet owners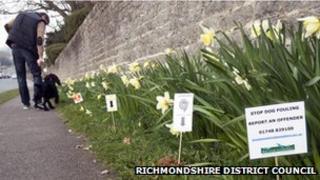 Warning signs are to be left in dog faeces found on the streets of Richmond in an effort to shame owners into cleaning up after their pets.
Markers saying "Stop dog fouling, report an offender" will be left by Richmondshire District Council in dog dirt found in the North Yorkshire town.
The signs will stay in place for a few days to highlight the amount of faeces in the area before they are removed.
Councillor Tony Duff said: "We will not tolerate this foul mess."
He added: "We hope that dog owners that fail to clean up after their pets will see the markers and think twice before walking away from it."
The scheme is being piloted across several streets in Richmond and, if successful, will used across the whole of Richmondshire, the council said.
Dog owners in the district face an on-the-spot penalty of £50 if they are caught failing to clean up after their pet.