New North Yorkshire chief constable choice criticised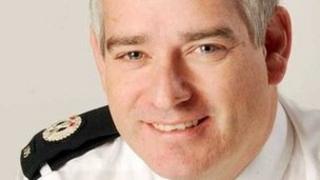 The appointment of North Yorkshire's chief constable has been criticised by the Police Federation, which claims the temporary incumbent should get the job.
Police and Crime Commissioner Julia Mulligan has chosen Dave Jones to take over from Temporary Chief Constable Tim Madgwick.
But the chair of North Yorkshire Police Federation said "many people" wanted to see Mr Madgwick secure the role.
Ms Mulligan said Mr Jones was a "tough guy for a tough job".
Mr Jones, who is currently an assistant chief constable in Northern Ireland, will replace Grahame Maxwell, who retired from the force last May.
'Immensely proud'
Announcing the appointment, Ms Mulligan said Mr Jones served in one of the UK's most challenging policing environments.
Mark Botham, chairman of North Yorkshire Police Federation, said he did not question the integrity of the selection panel.
But he added: "It's no secret that many people in North Yorkshire would have liked to have seen Tim Madgwick get the job.
"What we want is a period when what makes the news is the results that the loyal men and women of North Yorkshire Police achieve, not what particular individuals achieve."
Mr Botham said he feared Mr Jones would use the job as a "stepping stone" to another post.
Ms Mulligan said her new chief constable was there for the long-term and would be under contract for between four and five years.
Mr Jones said he was "immensely proud" to have been chosen.
The appointment needs to be approved by North Yorkshire's police and crime panel when it meets on 25 April