Homes plan for Terry's chocolate factory site in York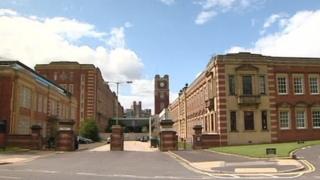 Hundreds of homes are to be built on part of the site of a former chocolate factory in York after it was acquired by two property companies.
The Terry's factory on Bishopthorpe Road closed in 2005 when production was moved to continental Europe.
The land has been bought for an undisclosed sum by Henry Boot Developments and David Wilson Homes.
Up to 200 jobs will be created when work starts on 270 homes on the South Bank end of the site later this year.
Site 'deteriorating'
Henry Boot, which will take responsibility for the redevelopment of the old factory buildings in another part of the site, said it was talking to potential occupiers from a range of sectors.
Planning consent for a variety of uses including homes, offices, hotels and shops has already been granted.
Listed buildings on the site which have fallen into disrepair are to be safeguarded immediately, the company said.
Paul Newman, from David Wilson Homes, said: "We believe that there is extensive local support for the new homes planned for the site and we intend to keep talking with neighbours as our plans develop.
"All being well, we could begin on site in the summer.
"We're tremendously excited about the opportunity to regenerate this deteriorating brownfield site to make it into a vibrant part of the local South Bank community."
The factory's closure brought to an end more than a century of chocolate-making in York by Terry's, which started manufacturing in the city in 1886.