York nursery girl's death: Sophee Redhead in court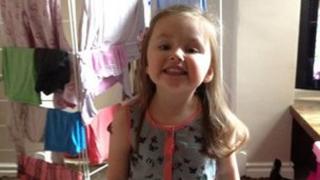 A former nursery worker has appeared in court charged with manslaughter following the death of a three-year-old girl in a nursery playground.
Lydia Bishop died in an incident at York College Nursery on 17 September.
The girl suffered serious injuries in the outdoor play area during her first day at the nursery.
Ex-employee Sophee Redhead, 24, of Wenham Road, York, appeared at York Magistrates' Court charged with one count of manslaughter.
The college also faces a charge of failing to prevent risks to a person's health and safety and a representative appeared in court on behalf of the college.
Richard Hebbert, prosecuting, told magistrates that both of the alleged offences arose "from the same incident".
Last September, emergency services were called to the nursery, which has subsequently closed, and Lydia was taken to York District Hospital, where she was pronounced dead.
North Yorkshire Police charged Ms Redhead with gross negligence manslaughter last month.
No pleas have yet been entered by the former staff member or the college.
Ms Redhead will appear before a judge at Leeds Crown Court for a preliminary hearing next Monday.
The case against York College, which can be heard either by magistrates or a crown court judge, was adjourned for a later hearing.