Consultation on Claro Barracks future use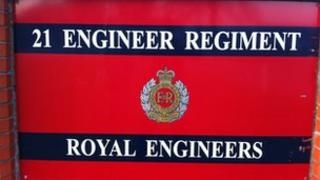 The future use of Claro Barracks in Ripon is to be the subject of a public consultation.
The North Yorkshire army base has a long military tradition but is to close by 2017, the Ministry of Defence recently announced.
The base currently houses more than 600 members of 21 Engineer Regiment and has billeted troops since World War I.
A number of organisations are joining together to try to minimise the economic impact of the closure.
'Hammer blow'
Public consultation about ideas for the barracks site will start in April and run until June, Ripon City Council said.
It said the comments received during the consultation would be used to develop a draft Ripon City Plan to shape planning policies.
When the closure of Claro Barracks was announced The Dean of Ripon, the Very Reverend Keith Jukes, said the news was a "hammer blow" for the city.
Councillor Alan Skidmore, deputy leader of Harrogate Borough Council and member of Ripon City Council, said: "It is incredibly sad that they are closing but we must start planning for the future and that process must start now."
Meetings are planned with representatives of Ripon and Harrogate Borough Council, Local Economic Partnerships and Julian Smith Conservative MP for Skipton and Ripon, and a Future of Claro group is to be formed.