Thirsk Market Place cobblestones re-laid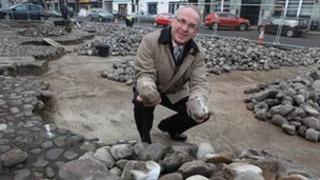 Hundreds of thousands of cobblestones are being painstakingly re-laid by hand in Thirsk's marketplace at a cost of £100,000.
Contractors will lay around 300,000 cobbles in the square with work expected to finish early in May.
Councillor Brian Phillips said the work is dependent upon weather conditions.
He said: "The nature of the materials we are using means we are restricted to two time windows in the year when cobbles can be laid."
Hambleton District Council resurfaced the entire Market Place in the early 1990's with a traditional surfacing of cobbles and Yorkstone paving - a type of sandstone.
Current work is focused on re-laying worn out areas, particularly around the most heavily used southern side of the marketplace.
Mr Phillips said: "The work needs to be carried out when weather conditions are relatively mild and damp.
"When the temperatures start to fall it is too cold and the materials don't set properly - when it is hot the materials dry out too quickly."
Thirsk's twice-weekly market will not be affected, say council officials.
The majority of parking in the market place remains available and there is alternative parking close to the market place.
Mr Phillips added: "We are trying to complete the works as quickly as we can, balancing this with minimising disruption and retaining as much parking as possible.
"We hope to cause as little disruption as possible over the Easter weekend and the work should be completed before the early May bank holiday."