Ideas sought on underground Yorkshire Dales power lines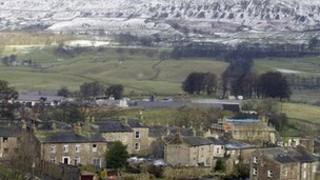 A national park authority is asking for ideas on which power lines crossing its land should be buried to safeguard the rural views.
The Yorkshire Dales National Park Authority already has some lines running underground and now wants to expand the scheme.
A park spokesman said it was in talks with the power regulator Ofgem about the plans.
Visitors and residents can offer ideas on which lines should be buried.
Thomas Harland, the park authority's planning policy officer, said: "It takes a long time to plan an undergrounding scheme.
"This is because it's hard to find a line that doesn't create some challenges - whether due to cost, disruption to local communities, wildlife, archaeology, or for technical and logistical reasons.
"This means we need to start working with the power suppliers to plan the next set of schemes as soon as possible - so we'd like to hear suggestions for lines that should be targeted.
"We can't make any promises because it is common for any combination of the above challenges to undermine scheme feasibility.
"However, once we've got some ideas, we'll sit down with the electricity companies and see which ones they can take forward."