New Haxby train station funding bid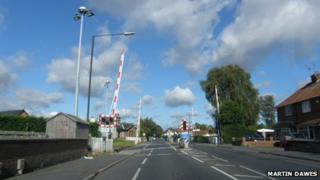 A new train station is to be built in Haxby, North Yorkshire, if a bid for a share of £20m from Network Rail is successful, said City of York Council.
The council is to bid for about £6m from the fund for a £7.5m station for more than 22,000 residents in the area 5 miles (8km) north of York.
Councillor Dave Merrett said a new station had been an ambition of "successive councils over 20 years".
If the bid is successful construction could start in 2015.
The money would come from a national fund to help towards the cost of building new stations.
The plan is for a new station on the Scarborough to York line south of the existing level crossing on Station Road, according to the council.
Campaigner David Wells, of Railfuture Yorkshire, said: "Connecting directly into York gives access to pretty much anywhere in the country."
A previous station in Haxby closed more than 80 years ago.